Easter Lamb
Even before the days of Christianity the symbol of the lamb was widespread in Mediterranean culture, with its long pastoral tradition. For Christian churches the lamb came to symbolize the Lamb of God - Jesus Christ.

In the southern Czech Sumava Mountains there used to be a tradition that blessing a lamb would help wayfarers to find their way through the forests. These days lamb is rarely eaten in the Czech Republic, but this does not mean that lamb has disappeared completely from Czech Easter celebrations. It still appears in the form of a cake. Recipe

Ingredients:
300g medium-ground (not self-raising) flour, 300g sugar, 4 egg yolks, 2 whole eggs, five whisked egg whites, vanilla sugar, raisins, almonds, 30g butter, lemon peel. For the lemon icing: 1 egg white, 100g sugar, 1 teaspoon lemon juice.

You will also need a cake form in the shape of a lamb!

What to do:
Mix the yolks in a bowl with the sugar, add the vanilla sugar, a little grated lemon peel, sliced almonds and raisins. Mix in the flour, stir together and add the firm whisked egg whites. Grease the cake form, fill with the mixture and bake in a warm oven. When the cake is ready, sprinkle with caster sugar or pour on the icing.
Icing: Stir the caster sugar, egg white and lemon juice until they thicken, then pour on the baked cake.



Judas Bread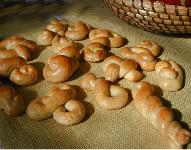 Judas bread was traditionally made with yeast dough and took the form of braided rope, symbolizing the rope on which Judas hanged himself after he had betrayed Christ. Baked Judas bread was eaten with honey, which traditionally was said to give protection against being stung by a bee or bitten by a snake.

Recipe:

Ingredients:
Ingredients: 500g medium-ground flour, salt, 80g powder sugar, 1 tablespoon vanilla sugar, lemon peel, 100g butter, 2 egg yolks, ¼ litre milk, 20g yeast, 2 egg yolks to brush onto the dough.

What to do:
Mix the flour, salt, sugar, and lemon peel, add the butter and the yolks mixed to a froth. Make a yeast dough with the milk and yeast, add to the other ingredients and knead the dough until soft. Leave the dough to rise. Cut it into pieces and roll into strips. Braid into spirals, place on a greased baking tray and again leave to stand for a while. Then brush on the egg yolk and bake in a hot oven. When cold, cut into slices and spread with butter and honey. Alternatively honey can just be poured on top of the Judas bread.



Easter Stuffing


Easter stuffing is a great Czech tradition, with many variations in different regions. It can be made with smoked meat, sometimes with pork and sometimes with veal. The stuffing also includes plenty of egg. As a spring dish it also needs something green - in the form of nettle, garden lovage (levisticus officinale), parsley or chive. The stuffing also includes breadcrumbs, milk and herbs. It is traditionally eaten on the evening of Easter Saturday.

Recipe:

Ingredients:
500g pork shoulder, 250g smoked meat (preferably fatty bacon), five eggs, 1 small loaf of white bread, ¼ litre milk, parsley, chopped nettle or other spring herb, salt, pepper, nutmeg, butter.

What to do:
Cut up the bread into cubes, add milk into which the yolks have already been whisked, and leave to stand. Boil the pork and the smoked meat separately, and cut into small pieces once cold. Chop up the herbs, first scalding the nettle with hot water. Mix the bread, meat and herbs, add a little salt, pepper and nutmeg. Whisk the egg whites until they are firm and add to the mixture. Place the stuffing evenly into a greased roasting pan, put some butter on top and bake until golden. Can be eaten both hot and cold.